Wedding Hair and Makeup Surrey
The NW Makeup team create stunning wedding hair and makeup Surrey, using natural looks that are perfect for your unique features. It is our promise to you that we will have you looking amazing from the very moment you arrive at the venue of your wedding right up until you wave goodbye to your final guests.
Weddings, on the whole, are very busy affairs, photos, strong daylight conditions, and the inevitable dancing late into the night mean that professional wedding hair and makeup is a must, after all, who would want to look washed out in their wedding photos? We create perfect looks that stay fresh well into the evening.
Our Surrey Wedding Hair and Makeup artists only create styles that make you feel your best, for us the fact that you feel 100% comfortable with your chosen look is of the utmost importance. 
NW Makeup artists only use high quality and luxurious products such as Mac, Urban Decay, Christian Dior, Laura Mercia, and Charlotte Tilbury. Many of our artists have worked in TV and Film, all of our artists have been vetted to a high standard by company owner Natasha. Looking for unforgettable wedding hair and makeup Surrey? NW Makeup is an excellent choice. 
Owner - Principle Makeup Artist
I am Natasha Wiggins principal hair and makeup artist in surrey.
I set up my hair and makeup business 13 years ago and I have slowly grown my amazing hair and makeup team. I have carefully handpicked my team to ensure we only have the best in the industry.
Since qualifying as a hair and makeup artist in 2003 I decided that I wanted to specialise in wedding hair and makeup and help brides create their dream look for their big day.
I love creating a natural hair and makeup look.
I like to bring out my brides best features when I style their hair and makeup – bringing out their natural beauty, simply making them the best version of themselves so that the groom still recognises them when they walk down the aisle.
if you have any questions about who would be the best match for your wedding day, do drop me an email or give me a quick call on 07841511409. We can chat about what you are looking for and who I think would be the perfect artist for your big day.
My name is Mehwish Saqib, I'm a hair, and makeup artist based in London but will travel all over the country. 
I'm incredibly passionate about creating classic, elegant and beautiful makeup looks and hairstyles for my brides on the most important day of their life.
My style is natural, and I like to enhance my clients existing features, helping them to look their best on their wedding day.
I also create beautiful high glam looks for any bride who would like to add a bit of sparkle and wants to look glamorous. I look forward to hearing from you and being part of your big day.
"Sophie covers Hampshire, Berkshire, Surrey, Wiltshire, Sussex, Buckinghamshire. A fully qualified Hair & Makeup Artist, Lash & Brow Technician. Sophie started her career in the Hair Industry 13 years ago, followed by a stint in the corporate world. However, her passion shone back through when she requalified with us at NW Makeup as Hair & Makeup Artist.
My true passion is people. The gift of making people feel their best selves and confidence brings me so much joy. Whether it be through talking, styling your hair or doing your makeup, I am here solely to put you at ease and feel incredible. I pride myself in my attention to detail, no request is unmanageable, it is your big day and I am here to help with anything you wish.
I have a soft spot for a natural dewy base, soft brown smokey eyes & a nude/pink lip. Alongside a soft curl, half up half down. To be honest, I have a weakness for absolutely anything Hair, Makeup & Beauty. Every single Bride & client is unique and special in their own way, and I love the variety. I will tailor your look to suit you and a look that you love.
You will find brands in my kit such us; NARS, Charlotte Tilbury, Laura Mercier, Dior, Anastasia Beverly Hills, MAC & Hourglass. Also, there is no such thing as too many hair tools or products. I am a true believer of a good skincare regime too, I could discuss skincare products all day, good skincare is the key to beautiful makeup… but the most important thing is a genuine smile!"
Senior Hair and Makeup Artist
Kelly, senior hair and makeup artist is a key member of my team and has been working with me for over 8 years.
Kelly has delighted many of our brides with her professional hair and make-up skills. 
Kelly really loves creating up-to-date and stylish wedding hairstyles but is equally at home creating a more classical look.
Hairstyling is a real passion of hers. Kelly loves to create a really natural makeup look on her brides.
She undertakes around 70 weddings every year, so has a wealth of experience to create a natural bridal look for you on your Big Day.
Wedding Hair & Makeup Artist
Elizabeth has worked in the bridal hair and make up industry for almost 15 years and is very passionate about her job.
She qualified in Theatre make up at Portsmouth university and has since worked as a member of the prestigious Estee Lauder Trend Team, promoting new products and new looks at their top stores all over the U.K and Ireland.
She also worked backstage at London fashion week creating the make up look for designers Sass and Bide.
Preferring a soft natural look for both hair and make up, she aims to make you look your very best – but still you!
Elizabeth is fully insured and only uses top quality products so you will be in safe hands on your wedding day.
Wedding Hair & Makeup Artist
Alexandra has been a makeup artist for around 7 years and absolutely thrives on making someone feel confident and beautiful on their special day. 
She started out studying in Media Hair and Makeup then went on to work within retail, with brands such as MAC cosmetics, Bobbi Brown and most recently Charlotte Tilbury. This really helped grow her skills, knowledge and understand so many different clients' needs.
Within this period she started to build her own business. Alexandra also has a beauty room at my home where she provides Dermalogica facials. Skin is her favourite part of the makeup routine! It can really change the way people look at themselves.   
In her spare time, she loves to walk, aiming to hit 10,000 steps daily. She has a super cute French bulldog called Mona who keeps her company. Alexandra is always learning and updating her skills and knowledge within the industry and loves working with other artists who have this same passion.
She has found a true love for the wedding industry, and cannot wait to see what the future holds for her.
Emma is a fully qualified and insured hair and makeup artist and covers Sussex, Surrey, Kent and Hampshire. As well as specialising in Bridal hair and makeup, Emma has worked in TV, video and on professional photoshoots.
She is absolutely passionate about making all her brides look and feel flawlessly beautiful on their wedding day. Your choice of wedding hair & makeup is unique to you and she loves creating perfectly styled hair and makeup which naturally complements you and your wedding style.
Emma truly loves her job and being part of your wedding day preparations from beginning to end. She likes to set a calm, relaxing and friendly atmosphere so that you feel completely at ease, and so that you thoroughly enjoy all the mornings pampering.
All products in her kit are proven for longevity and giving you a flawless finish so you'll look fabulous all day and night. Emma only uses luxury, high end & cruelty-free products – with 95% of her kit being vegan.
"I am a freelance makeup artist and hairstylist based in Brighton. I have always been madly passionate about hair and makeup, and I feel fortunate to be able to work doing something I absolutely love!
I have 18 years experience as a hairdresser and makeup artist.
I love working in the wedding industry and being a part of the wedding morning.
It is an extraordinary time, and I pride myself on creating a calming and relaxed environment while you get ready."
I am a fully qualified Hair & Make up artist based in Surrey and the surrounding area. I have always had a passion for make up and decided to follow this. I graduated from Brushstroke Hair & Make up School in 2018, where I trained in Film & TV, Bridal, Fashion & Occasion.
One of the best parts about my job is making people feel great. I love meeting new people and being part of such an amazing day.
Some of the products you will find in my kit are Charlotte Tilbury, Bobbi Brown, MAC & many more
I'm a fully qualified Professional Hair & Makeup Artist based in Surrey. I hold a MASA Advanced Diploma in makeup and hairstyling from the London School of Beauty and Make-up.
Alongside my bridal and private clients, I have been privileged to work on many fashion shows, including London Fashion Week, and to be the lead makeup artist for published editorial photoshoots and theatre productions.
My makeup style focuses on enhancing your natural beauty rather than masking features. I love to create original makeup designs that bring out your unique features and give a flawless, radiant finish to your
look.
Amy is fully qualified in hair & make up and completed her Training at The London College Of Fashion. She has experience working on feature films Harry Potter and the Chamber of secrets and Love Actually.  She has also completed a  Bridal make up & hair course at AOFM. 
Amy Specialises in Bridal and special event hair & make up. In Amy's kit you will find products from Charlotte Tilbury, Nars, Laura Mercier, Anastasia Beverly Hills to name but a few. 
Amy is professional and adds a calming influence on a busy wedding morning. Always the perfectionist she always makes sure her Brides look their very best for their special day. 
Hannah is proud to be on the NW Makeup Team. She began in 2015 by training at London School of Makeup & London College of Fashion.
As well as investing in her education, Hannah also invests in her kit by using trusted luxury brands such as MAC, Charlotte Tilbury, Laura Mercier & Tigi.
 Over the years, Hannah has been fortunate enough to have worked London Fashion Week, been published in magazines & do makeup for Made In Chelsea cast members, Laura Whitmore & Duncan James.
Hannah will always have an unshakeable passion for Bridal makeup & hair. Her philosophy is that every Bride deserves to look as well as feel like their Bridal vision, all whilst building a genuine connection with them & their loved ones.
"It's always a true honour & pleasure to be involved in an exciting chapter of my Bride's lives."
Hi, I'm Viktoria, nice to meet you! from a young age, I loved the way makeup can make you look and feel amazing.
And although my skills are decidedly better than they were when I first started expressing my technique on my Mum in the 1980s, I am still as passionate about it as ever!
I am extremely happy and proud that since I started, I have worked with so many wonderful people, helping them look and feel confident and happy for their special days.
I am a qualified professional hair and make-up artist based near Guildford, Surrey. I specialise in make up and hair styling for weddings and special occasions.
I aim to make every bride look and feel beautiful on their wedding day, making the most of each individual's best features and making them feel extra special for their special day. My favourite bridal look is natural, although I am happy to do more glamorous looks if this is requested. I am often told I have a calming effect and this works well when I am working with the bridal party on the wedding morning.
I have loved styling peoples hair and doing make up from a very young age and feel very lucky to turn something I enjoy so much into my career!.
I use a wide range of professional make up products including MAC, Benefit and Bobbi Brown. For skin preparation I mostly use Dermalogica products.
I am a freelance hair and makeup artist in Surrey, willing to travel all over. I am fully qualified from Brushstroke media hair and makeup school Shepperton Studios trained in TV/Film, Bridal, Occasion, Fashion. I am fully insured.
I love my job and being a makeup artist is fun, rewarding and has always been my passion giving me the chance to be a part of someone's very special day.
I love that I'm always meeting and working with new people also I love to be creative each day, helping clients look and feel their best.
Senior Hair and Makeup Artist
Natalie, is a fully qualified and insured hair and make-up artist, and she has worked in various roles around the film, TV and media industry for over 15 years. Natalie has worked for NW Makeup for more than 6 years and is fantastic at bridal hair and makeup .
Natalie's passion is make-up, hair and making people look and feel their very best on their special day – be it a wedding or a day at the races!
"I use various makeup brands which I love including Mac, Bobbi Brown, Chanel, and Laura Mercier. I also use an airbrush system to achieve an all day, natural bridal look that stays put! I'm qualified in eyelash extensions, gel nail polish, and spray tan."
Senior Hair and Makeup Artist
Annie covers Berkshire, Oxfordshire, Hampshire, Surrey and Buckinghamshire. Annie started her career as a hairdresser and having worked for many years in a salon she has gained valuable experience in hair styling. For the last few years, she has been involved in professional photo shoots, fashion shows and weddings.
Annie's passion for creating stunning hairstyles as well as her extensive knowledge of hairdressing, brings stunning looks for all of her brides. She brings with her all the tips and tricks that she has acquired from her extensive wedding experience, and she also has a City & Guilds in Hairdressing and qualified as a Make-up Artist at The Session School in London.
"Annie was brilliant, and the whole team were quick to respond to our enquiries! My bridesmaids and I felt at ease with Annie from when we first met her! We all loved our hair and make up! A huge thank you for everything!!"
Wedding Hair & Makeup Artist
Rose is based in Essex and provides beauty services for bridal and special occasion events.
Trained at the revered Brushstroke Academy, Rose is a working hair and makeup artist and has worked with notable names across the film, fashion and music industries. Her true passion, however, is to create beautiful bridal hairstyles and flawless beauty makeups for her brides-to-be.
Her recent bridal work has featured on E4's Don't Tell The Bride! With a background in luxury retail (Harrods, Selfridges) Rose prides herself in her attention to detail and looking after the small things so that her brides can relax and enjoy their wedding morning without worry.
She is gifted in tailoring a bride's personal style choices to enhance their natural beauty and understands that her brides want to be looking and feeling their best, on the best day of their lives! Rose states, "I wish to help your big day run seamlessly so that you can focus on making those special, once-in-a-lifetime memories with loved ones".
Senior Hair and Makeup Artist
Suzie covers Surrey, Hampshire and Berkshire. She became a fully qualified make-up artist and hair stylist three years ago. She trained and completed a Diploma at the London School of Beauty.
Suzie has gained experience working with talented models on fashion shows, photo shoots, brides and bridal parties. She now specialises in wedding hair and makeup and her passion really shows through in her work with her brides.
She really enjoys being creative so whether you would like to have a natural or dramatic look, Suzie's skills and knowledge can create the perfect look for you and your bridesmaids.
"I would just like to say thank you for doing a great job for my wedding!!! You made me and my bridesmaid look so beautiful ! When the photos are done by photographer I will send to you!! Anyway thanks again my lovely girl,you did an amazing job for four people!"
Senior Hair and Makeup Artist
Vicky studied A Level Art and has always had a creative mind. Vicky received her diploma in make-up artistry from Kingston College, Kingston upon Thames in 2012. She is trained in cosmetics, airbrushing, bridal, period looks, fashion, photographic, TV and film make-up along with special effects and the use of prosthetics. Vicky is also able to make prosthetics. Following this training, she went on to do hair styling with a particular interest in bridal work.
Vicky has worked on a range of freelance jobs including theatre productions, TV sets for shows such as Four Rooms and many short films which have been nominated for numerous awards. From the beginning of her make-up artist career, Vicky has loved working within the bridal industry and has a real enjoyment for being part of a brides special day.
As a qualified Beauty Therapist, Vicky specialises in eye treatments including, eyelash tints and perms, eyebrow tints and shapes and semi-permanent eyelash extensions. Vicky is also a qualified Nail Technician, qualified in manicures, pedicures and nail enhancements, including acrylics, fibreglass and gel nails. Vicky can provide mobile beauty treatments as well as wedding hair and make-up for our clients.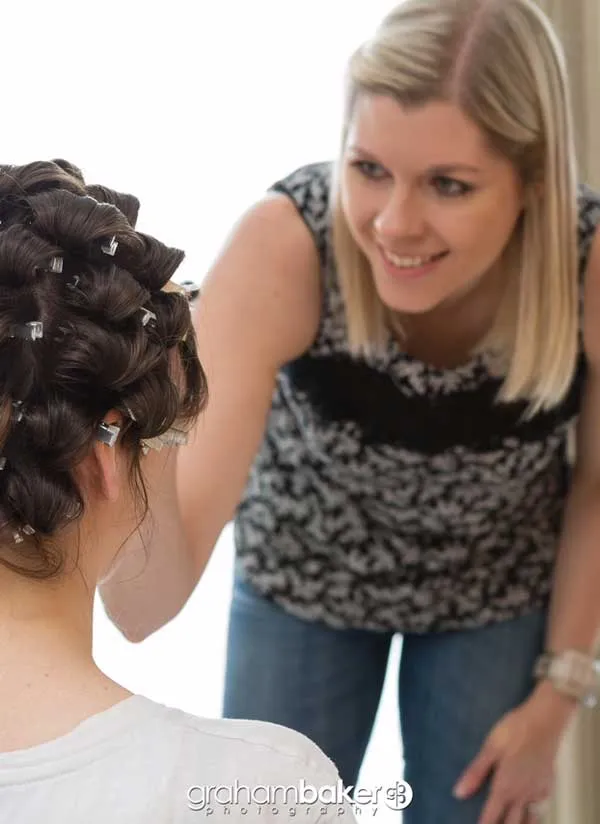 Senior Hair and Makeup Artist
Nikki covers London and Surrey and has been a freelancer in the theatre industry for over ten years, mostly in costume but also including hair, wigs and make-up. In 2015, she retrained at DFMA in a TV, film, theatre and special effects course, to further her skills in hair and make-up.
Since then she has worked on several TV series, short films, events and bridal.
Nikki is creative, calm and good at listening to what you want on your day, as she knows every little detail matters. She knows it's essential that the bride feels at her best and it's always a privilege to be a part of their Big Day.
Senior Hair and Makeup Artist
Katie trained in hair and makeup at Delamar Academy Ealing Studios over 8 yrs ago during which time Katie created makeup looks for film, theatre, tv and fashion.
She has worked on TV/film celebrities as well as assisting Ron Freeman (Pavarotti's personal make-up artist) on opera productions. This is where her real passion for hair styling started.
Katie also worked for Chanel and Bobbi Brown Cosmetics. She gained a lot of bridal makeup experience along with teaching women how to bring out their natural beauty in their everyday life. 
This then led Katie into the wonderfully creative world of wedding hair and make-up. Helping to enhance women's natural beauty on their Big Day is a real passion for her! And I know our brides will love working with Katie.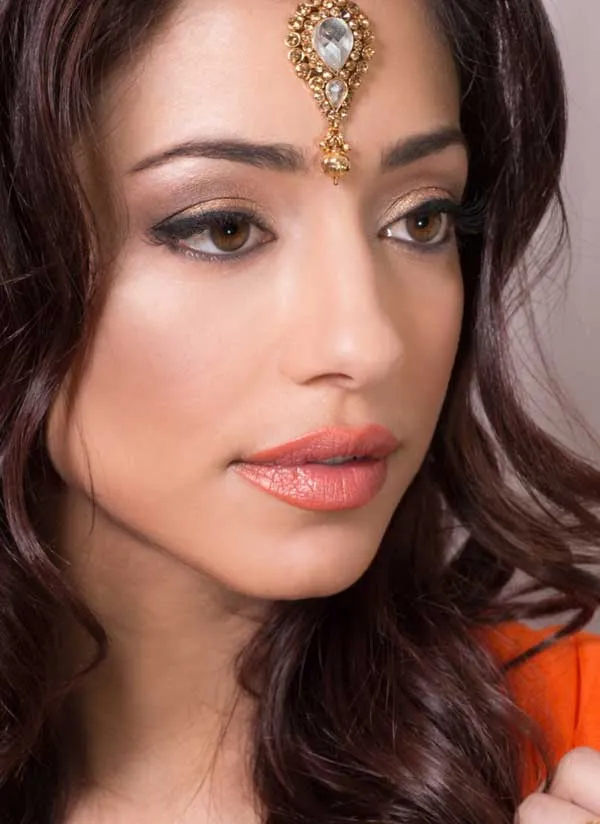 Senior Hair and Makeup Artist
Prina covers Kent, Surrey, Sussex and Hertfordshire Prina trained with some of the top Asian bridal artists including Joshiv Hair & Beauty, Ambreen Hair & Make-up and Reshma Make-up Artist. She also trained with Pam Wrigley.
Prina is experienced in applying make-up for all ethnicities and can apply make-up to achieve a very natural finish or if you prefer, a more glamorous look!
Prina is very passionate about hair styling and applying make-up and enjoys making brides look and feel beautiful for their special day.
Nisha covers Surrey and Berkshire "For me, makeup and hair is about renewing confidence. I love skin prep and this is key for me…my fav products for this is Pixi Glow and the iconic illuminator. It gives the best finish time after time.
I am a believer…so if it makes you feel beautiful…do it! I provide the friendly, professional bit, but the creativity comes from my clients.
I am here to give advice and add flare. I am BABTAC qualified in hair and makeup and I have 12 years experience. But my addiction to makeup and hair is extreme! Experimenting is my highest form of research.
My makeup and hair collaborations keeps me on the latest trends. I work hard and I'm disciplined. Politeness is one half of my good nature. The other side is listening and understanding. Rest assured you are in good hands. It's your big day so leave the responsibility to me so that you can relax. "
Senior Hair and Makeup Artist
Lisa Victoria qualified as a hair and make-up artist over 10 years ago and has since worked at special events, on TV productions along with many weddings.
She describes herself as "passionate, creative and cheerful."
Lisa Victoria feels that being part of a bride's special day and making them look and feel amazing is a real privilege.  She will always listen to your requirements, enhancing your natural beauty, and ensuring you get your desired look for your own personal style. You've got to feel amazing on your Big Day!
Wedding Hair & Makeup Artist
From as young as I can remember I have always been a creative person, I would continuously be pestering my mum and relatives to play with their hair and paint their face.
I'm thankful I can relive my childhood dream job and do something I love daily.
Since qualifying from Brushstroke's Makeup school, I have been able to share and develop my passion with all my lovely clients.
There's nothing more rewarding than seeing a client's face after you have enhanced their natural beauty.
I love meeting new people and being part of such a special day. I like to use cruelty-free makeup such as Charlotte Tilbury and create a fresh, natural fresh look.
I love to work with all different hair types, and especially enjoy creating textured boho styles."
Junior Hair and Makeup Artist
Toni qualified in 2010 at Bracknell & Wokingham College, and has worked on various weddings and portfolio shoots over the years. She has kept her skills up to date by attending different beauty short courses.
Toni loves playing with make-up and will always work with you to get the look you want, in a way that suits you. She prides herself in making your natural beautiful features stand out and her looks range from subtle and natural to full on glam!
Her make-up kit is 100% cruelty free and mainly vegan.
She is also qualified in hair styling, spray tans, manicure and pedicure, eyelash and brow tinting, eyelash perming and soon to be qualified in gel nails.
Toni loves to be a part of your Big Day and is always known to be friendly, professional and calm.
junior Hair and Makeup Artist
Jennifer Covers Surrey, Hampshire and London Although Jennifer has always been passionate about hair and makeup from a young age she didn't have a clear idea on what career path she wanted to follow until the age of 21. Therefore the majority of her career background is in customer service, something which she enjoyed until she finally realised it really wasn't for her!
Jennifer then enrolled on a hair and make-up course at DFMA – specialised in film, TV and theatre make-up, as well as covering other areas, such as bridal.
Since graduating Jennifer has been entirely focused on a career as a hair and make-up artist and have so far undertaken work (both as lead artist and assisting) for multiple music videos, bridal parties, short films, TV, red carpet, photo shoots, proms and private events.
Senior Hair and Makeup Artist
Nicky is one of our senior hair and makeup artist she covers Surrey, Hampshire and West Sussex.
"I have been working in the industry for over 10 years and trained at the London College of Fashion and Retford International College. I've worked for Sisley and SpaceNK where I first discovered my passion for bridal makeup.
Later on, I introduced hair styling to my repertoire so I can offer my brides the whole package. I love doing bridal photo-shoots, hair and makeup for events and makeup lessons, any excuse to waffle on about makeup! I recently trained in 'Colour Analysis' which I love, people find it so interesting, not only does it tell you exactly what colours will suit you for hair and makeup but also your clothes."
Junior Hair and Makeup Artist
Tina is one of our Junior hair and makeup artist she covers Hampshire Surrey and Berkshire and has a creative flair. Tina Loves helping brides create the perfect look for there wedding day.
"I have had a passion for hair and makeup , and now I am fortunate enough that my passion is my career.
I take great pride in my work, I started by getting my qualification in NVQ LEVEL 1,2 and 3 Hairdressing after this I enrolled in a professional makeup course at Southampton Solent University from which I graduated in 2017 with a BA (Hons) in Make-Up and Hair Design."
Rosie Hair and makeup artist Based in Guildford, Rosie covers Surrey, Hampshire, Berkshire and West Sussex.
Making people look and feel great is the most rewarding part of working in the hair and beauty industry. Expressing my creativity through hair and makeup is a real passion of mine, with bridal styling being my preferred and most loved area. Whether it be creating a look that is unique to the bride and her bridesmaids or giving the Mother of the bride a make-over, it's a fantastic experience being part of someone's big day.
I was first introduced to the professional world of hair and beauty while working on a CBeebies programme, for which I did the presenters hair and makeup. This then led me to pursue this career choice, focusing mainly on weddings and occasions.
My favourite bridal looks are natural and romantic. Dewy skin, soft smokey eyes, complemented by loose curls, either worn up or down = timeless!
You will find a real mix of products in my kit ranging from high-end brands such as MAC, Estée Lauder, High Definition and SMASHBOX to everyday high street favourites like NYX, Benefit and Revolution. I love styling hair with the help of TIGI Bed Head products and the famous Kenra Professionals.
Rhianne is one of our Wedding Hair and Makeup artists In Surrey she also covers Hampshire parts of West Sussex and Berkshire. Rhianne has always had a very creative side, several years ago that she discovered makeup. Rhianne loves the rewarding feeling of making others look and feel amazing through hair and makeup.
"Being a makeup artist can be challenging at times, but also so much fun! This means work is never dull and is full of surprises every day!
My favourite wedding venue is Hartsfield Manor in Betchworth. The grounds are breathtaking, the rooms are vast, and the marriage hall and wedding breakfast rooms are stunning.
The bridal suite is an ideal size for a bridal party to get ready in too!"
Rhianne won Won 2nd place award at Excel London for bridal makeup and hair.
Francesca is one of the NW makeup team; she covers Surrey, Hampshire, Middlesex and Southeast London. Francesca has eight years of experience in the bridal hair & makeup industry.
Francesca is passionate about her work; She always makes sure her clients are 100% satisfied. She has a relaxed and friendly approach, which will ensure a calm atmosphere for the morning of your wedding.
She has always known what she wanted to do, therefore went straight from school into training at Brushstroke in Shepperton Film Studios for two years where her passion for makeup continued flowing throughout everything she learnt which included: Bridal, Beauty, Theatre, Fashion, TV, Film and Special Effects.
Francesca is fully insured with the guild of beauty therapists.
Sophie is one of the NW hair and makeup team; she covers Surrey. Sophie has been working in the wedding industry for 7 years.
Sophie's journey began when she started a hairdressing course at Guildford college in 2014. She enjoyed being creative and trialing different hair-up styles. Once she completed her course, she knew hair-up was going to be a huge part of her career, hoping to fulfill brides' dreams.
She practiced on friends and family, any hair she could get her hands on really.
She then went to the southern school of beauty where she learned makeup.
She did her first wedding in 2016 and never looked back. Sophie loves bridal work not only the hair and makeup side but the ambiance wedding generate, it's just magical. Hair and makeup isn't just a job to her, it's a passion, it makes her feel relaxed and at ease.
Bridal Hair and Makeup Surrey
To see some of our recent bridal hair and makeup looks, please view our wedding gallery. My wedding team work with our clients at wedding venues across Surrey these venues have included The Barn at Bury Court Farnham, Ramster Hall Chiddingfold, Wotton House near Dorking, Russets Country House near Haslemere, Great Fosters Egham in Surrey, Loseley Park near Godalming/Guildford in Surrey, The Lythe Hill Hotel & Spa near Haslemere, Surrey, Fresham Pond Hotel, Frensham, near Farnham in Surrey, The Mandolay in Guildford, Surrey, Pembroke Lodge in Richmond Park, Surrey, Northbrook Park near Farnham, Surrey, Milbridge Court near Frensham in Surrey, The Harbour Hotel (formerly Radisson Blu) in Guildford, Surrey, Botleys Mansion, Chertsey in Surrey, Cain Manor, Headley Down in Surrey
Over the years we have been fortunate enough to create bridal hair, and makeup looks for hundreds of Surrey brides. For the ultimate wedding hair and makeup Surrey contact the NW Makeup team.
TESTIMONIALS
"Natasha and her team are lovely and listen to what you want whilst guiding you and advising you on what would compliment and enhance the natural you. I would 100% recommend Natasha as a makeup artist for any bride X"