Wedding Hair and Makeup Cambridgeshire
The Hertfordshire NW Makeup team create stunning wedding hair and makeup Cambridgeshire by using natural techniques that are perfect for your unique features. It is our promise to you that we will have you looking amazing from the very moment you arrive at the venue of your wedding right up until you wave goodbye to your final guests.
Weddings, on the whole, are very busy affairs, photos, strong daylight conditions, and the inevitable dancing late into the night mean that professional wedding hair and makeup in Cambridgeshire is a must, after all, who would want to look washed out in their wedding photos? We create perfect looks that stay fresh well into the evening.
My Cambridgeshire Wedding Hair and Makeup artists only create styles that make you feel your best, for us the fact that you feel 100% comfortable with your chosen look is of the utmost importance. 
NW Makeup artists only use high quality and luxurious products such as Mac, Urban Decay, Christian Dior, Laura Mercia, and Charlotte Tilbury. Many of our artists have worked in TV and Film, all of our artists have been vetted to a high standard by company owner Natasha. Looking for unforgettable wedding hair and makeup Cambridgeshire? NW Makeup is an excellent choice.
I am Natasha Wiggins Creative Director or NW Makeup.
I set up my hair and makeup business 18 years ago and I have slowly grown my amazing hair and makeup business. I have carefully handpicked hair and makeup artists to ensure we only supply the best in the industry.
Since qualifying as a hair and makeup artist in 2003 I decided that I wanted to specialise in wedding hair and makeup and help brides create their dream look for their big day.
At NW Makeup our passion is for natural beauty and boho hair – making our brides look and feel their very best on their wedding day.
if you have any questions about who would be the best match for your wedding day, do drop me an email or give me a quick call on 07841511409. We can chat about what you are looking for and who I think would be the perfect artist for your big day.
Wedding Hair & Makeup Artist
Rose is based in Essex and provides beauty services for bridal and special occasion events.
Trained at the revered Brushstroke Academy, Rose is a working hair and makeup artist and has worked with notable names across the film, fashion and music industries. Her true passion, however, is to create beautiful bridal hairstyles and flawless beauty makeups for her brides-to-be.
Her recent bridal work has featured on E4's Don't Tell The Bride! With a background in luxury retail (Harrods, Selfridges) Rose prides herself in her attention to detail and looking after the small things so that her brides can relax and enjoy their wedding morning without worry.
She is gifted in tailoring a bride's personal style choices to enhance their natural beauty and understands that her brides want to be looking and feeling their best, on the best day of their lives! Rose states, "I wish to help your big day run seamlessly so that you can focus on making those special, once-in-a-lifetime memories with loved ones".
I am a professional Hair & Makeup Artist based in Cambridgeshire and working all over the UK. There's simply no denying it, I'm head-over-heels in love with all things "bridal". After assisting on hundreds of weddings, I'm completely driven to making my brides look and feel truly amazing. Bridal work is my main pride and focus.
My main strength is understanding my brides as to what they want; whether it be an enhancing natural look, glam or anything in between. I understand the importance of how special the 'getting ready' process is, so I will be there to assist with your morning and remain with you until the very moment you are at the top of the aisle, veil set and any last touch ups you may request."
Discover Amanda, a highly skilled and experienced makeup artist based in Briston. With 17 years of expertise in the industry, Amanda specialises in creating stunning bridal hair and makeup looks. Her ultimate goal is to make you feel truly beautiful on your wedding day, exuding confidence throughout the entire event.
Amanda's philosophy revolves around enhancing your natural beauty, allowing you to look and feel like the best version of yourself. With her meticulous attention to detail and deep understanding of individual styles, she ensures that your hair and makeup perfectly reflect your unique personality and desired look.
Embracing the beauty of natural aesthetics, Amanda specialises in creating personalised hair and makeup styles that range from classic and vintage to modern and boho-chic. Whether you envision an elegant and timeless appearance or a trendy and free-spirited vibe, Amanda has the skills and creativity to bring your vision to life.
Covering the enchanting regions of Norfolk, Suffolk, and Cambridgeshire, Amanda is dedicated to providing a seamless and enjoyable experience for every bride. She welcomes you to her fully equipped studio for trials, where you can experiment with different looks and finalise the perfect style for your special day.
If you're searching for an expert wedding hair and makeup artist who will prioritise your confidence and create a flawless, natural look, Amanda is your ideal choice. Contact her today to schedule a trial and embark on a journey towards your dream wedding day appearance.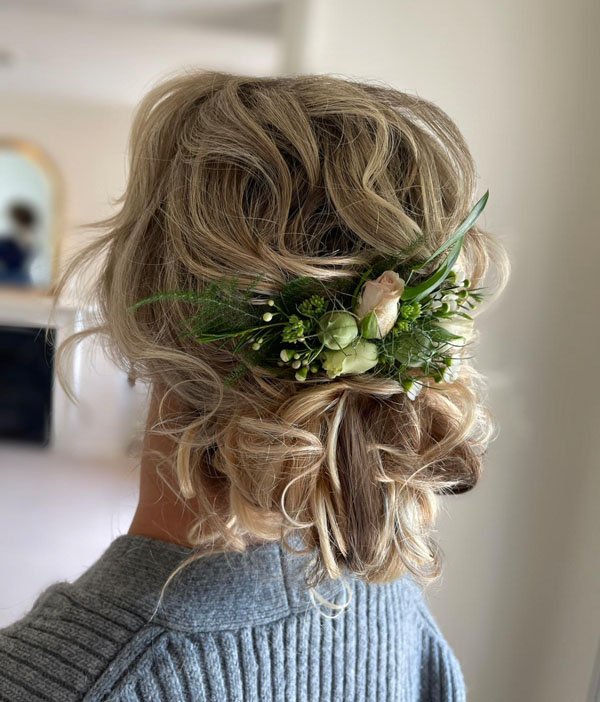 Annie is a professional Wedding Hair and Makeup Artist based in Manea. She covers
Cambridgeshire
and the surrounding area.
Annie has been a specialist in bridal hair and makeup for the past 10 years and has enjoyed working with hundreds of brides, helping to create the perfect look for them and their bridal party.
After gaining her professional qualifications Annie has continued to develop her skills at many workshops from the likes of Karla Powell- celebrity makeup artist and also Illamasqua.
Annie's work has been published in Many Magazines, plus she also had the experience of working for Sky Sports.
All this experience has given her the knowledge to achieve flawless hair and makeup that will last all day and still look amazing on camera- perfect for each bride on their special day.
Hello, my name is Alexis Anstey and I am a Bedford-based Bridal Hair & Makeup Artist. I am passionate about creating Bespoke Wedding Hairstyles and Make up for the brides I work with. My signature wedding style is relaxed, boho and natural, with whimsical hairstyles combined with fresh and flawless make-up.
I love helping brides create their dream look and making sure they are the most beautiful version of themselves. My working style is very relaxed, and although I am also very organised and love a timetable, I am great at reading the energy of the room and understanding when you need to feel calm or if we can have a laugh. I am right there with you!
Based in Bedford the majority of brides I work with are from the Bedfordshire, Cambridgeshire, St Albans, Hertfordshire area, however, I am very well placed to travel to you in the UK and Europe for destination weddings. 
Bridal Hair and Makeup Cambridgeshire
To see some of our recent bridal hair and makeup looks, please view our wedding gallery. My wedding team work with our clients at wedding venues across Cambridgeshire including; The Old Hall, Woodhall Manor, and Longstowe Hall.
Over the years we have been fortunate enough to create bridal hair, and makeup looks for hundreds of Cambridgeshire brides. For the ultimate wedding hair and makeup Cambridgeshire contact the NW Makeup team.
TESTIMONIALS
"Natasha and her team are lovely and listen to what you want whilst guiding you and advising you on what would compliment and enhance the natural you. I would 100% recommend Natasha as a makeup artist for any bride X"