Wedding Hair and Makeup Cheshire
The Cheshire NW Makeup team create stunning wedding hair and makeup Cheshire by using natural techniques that are perfect for your unique features. It is our promise to you that we will have you looking amazing from the very moment you arrive at the venue of your wedding right up until you wave goodbye to your final guests.
Weddings, on the whole, are very busy affairs, photos, strong daylight conditions, and the inevitable dancing late into the night mean that professional wedding hair and makeup in Cheshire is a must, after all, who would want to look washed out in their wedding photos? We create perfect looks that stay fresh well into the evening.
My Cheshire Wedding Hair and Makeup artists only create styles that make you feel your best, for us the fact that you feel 100% comfortable with your chosen look is of the utmost importance. 
NW Makeup artists only use high quality and luxurious products such as Mac, Urban Decay, Christian Dior, Laura Mercia, and Charlotte Tilbury. Many of our artists have worked in TV and Film, all of our artists have been vetted to a high standard by company owner Natasha. Looking for unforgettable wedding hair and makeup Cheshire? NW Makeup is an excellent choice.
I am Natasha Wiggins Creative Director or NW Makeup.
I set up my hair and makeup business 18 years ago and I have slowly grown my amazing hair and makeup business. I have carefully handpicked hair and makeup artists to ensure we only supply the best in the industry.
Since qualifying as a hair and makeup artist in 2003 I decided that I wanted to specialise in wedding hair and makeup and help brides create their dream look for their big day.
At NW Makeup our passion is for natural beauty and boho hair – making our brides look and feel their very best on their wedding day.
if you have any questions about who would be the best match for your wedding day, do drop me an email or give me a quick call on 07841511409. We can chat about what you are looking for and who I think would be the perfect artist for your big day.
Abigail is a Worcestershire hair and makeup artist working across the Midlands, Herefordshire, the Cotswolds, Shropshire, Cheshire and also on destination weddings.
Growing up she always had a love of the glamorous makeup looks on Hollywood starlets in old movies and six years ago decided to make her passion and hobby a career.
As well as college training, she also trained in hair and makeup with Mach Management and has worked for brands such as Too Faced and Bare Minerals. Abigail has also worked at the Le Keux Salon in Birmingham giving vintage style makeovers.
She is trained in a number of areas of makeup such as photographic beauty, vintage, everyday makeup, fashion and of course bridal. Kylie has had work featured in Country Life Magazine. She specialises in bridal makeup and is known for creating a flawless yet natural radiant look. She knows how important it is for a bride to look and more importantly feel their best on the big day.
Her mission is to turn you into the red carpet version of yourself. She
stays up to date with new techniques and products and keeps her kit up to date with professional products from Charlotte Tilbury, Danessa Myricks, Tarte and Illamasqua.
Abigail will listen to you, to help create your vision, offering help and advice along the way. This includes skincare advice leading up to the wedding ensuring that you are flawless and glowing. A reliable and calming influence on the day to help you achieve your dreams.
Natalie qualified in theatrical media hair and makeup in 2014. She started in the wedding business shortly after, covering South Wales and branching out into the southwest of England.
Natalie has worked for several award-winning companies. She recently moved back to her roots in the northwest. She works with 100s of brides each year.
Natalie's style is simple, enchanting natural beauty with flawless skin and creating on-trend, boho and sleek hair art.
Natalie prides herself on getting all bridal members ready 1 hour before the 'i dos' creating a relaxed and memorable wedding morning for all involved.
Oksana is a trusted Wedding Hair and Makeup Artist based in Rossendale, and covering the picturesque regions of
Lancashire
and
Cheshire
.
Oksana is a professionally trained hair and makeup artist who is dedicated to making every bride feel special and unique on their big day. With Oksana, you can expect a soft, natural, and flawless look that enhances your own beauty and embraces your individuality.
With seven years of experience in bridal work and a portfolio comprising hundreds of weddings, Oksana has honed her skills to perfection. Her goal is to provide an unforgettable and relaxing experience for all her lovely brides. You can rely on her friendly approach, positive attitude, and excellent time management skills to ensure your wedding day runs smoothly and according to schedule.
Her expertise lies in creating soft, natural looks that bring out the best in each bride. By enhancing your features and embracing your unique qualities, Oksana will make you look and feel radiant as you walk down the aisle.
If you're seeking a hair and makeup artist who understands your vision and can deliver flawless results, look no further than Oksana. Contact her today to embark on a journey of beauty and individuality for your special day.
Samina is a premier Wedding Hair and Makeup Artist based in Manchester, she covers
Lancashire
and
Cheshire
.
Introducing Samina, a talented and passionate hair and makeup artist based in the vibrant city of Manchester. With over three years of experience in the industry, Samina has always had a love for makeovers, which she started honing during her college days.
Driven by her passion, Samina decided to take her skills to the next level about four years ago. She pursued and successfully completed a VTCT qualification in Makeup, solidifying her expertise and knowledge in the field. In 2018, she further expanded her repertoire by undertaking a hair styling course with the renowned Nadia Waseem.
For Samina, inspiration is key, and she found her heavy glam inspiration during a one-on-one session at Plouise in 2018. This experience has enriched her skills and allowed her to create stunning, glamorous looks that are sure to turn heads.
Her dedication to her craft shines through in every hairdo and makeup application, as she strives to bring out your inner beauty and make you feel exceptional on your wedding day.
If you're seeking a premier wedding hair and makeup artist with a wealth of experience and a commitment to delivering flawless results, look no further than Samina. Contact her today to discuss your bridal vision and let her transform you into the best version of yourself on your special day.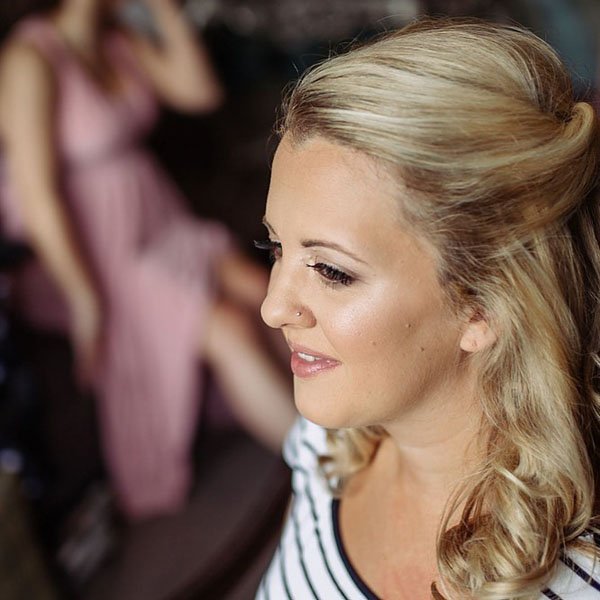 Briony Jaye is a Lancashire hair and makeup artist working across the Cheshire, the North-West of England and also on destination weddings.
She is a wedding hair & makeup artist with over 8 years of industry experience specialising in creating youthful, glowing and clean bridal makeup for the modern and minimal bride.
Teamed with her love for soft, tousled and boho-inspired bridal hair, Briony Jaye can deliver high-quality services for brides across the North West of England. she qualified in 2014 from Cassie Lomas Makeup Academy where she completed a Fashion Photographic Makeup course and from here IBriony Jaye worked with various brands such as Vivienne Westwood, Belstaff and The Brit Awards 2017. 
Bridal Hair and Makeup Cheshire
To see some of our recent bridal hair and makeup looks, please view our wedding gallery. My wedding teamwork with our clients at wedding venues across Cheshire
Over the years we have been fortunate enough to create bridal hair, and makeup looks for hundreds of Cheshire brides. For the ultimate wedding hair and makeup Cheshire contact the NW Makeup team.
TESTIMONIALS
"Natasha and her team are lovely and listen to what you want whilst guiding you and advising you on what would compliment and enhance the natural you. I would 100% recommend Natasha as a makeup artist for any bride X"