Wedding Hair and Makeup LONDON
The London NW Makeup team create stunning wedding hair and makeup London by using natural techniques that are perfect for your unique features. It is our promise to you that we will have you looking amazing from the very moment you arrive at the venue of your wedding right up until you wave goodbye to your final guests.
Weddings, on the whole, are very busy affairs, photos, strong daylight conditions, and the inevitable dancing late into the night mean that professional wedding hair and makeup in London is a must, after all, who would want to look washed out in their wedding photos? We create perfect looks that stay fresh well into the evening.
My London Wedding Hair and Makeup artists only create styles that make you feel your best, for us the fact that you feel 100% comfortable with your chosen look is of the utmost importance. 
NW Makeup artists only use high quality and luxurious products such as Mac, Urban Decay, Christian Dior, Laura Mercia, and Charlotte Tilbury. Many of our artists have worked in TV and Film, all of our artists have been vetted to a high standard by company owner Natasha. Looking for unforgettable wedding hair and makeup London? NW Makeup is an excellent choice.
Owner - Principle Makeup Artist
I am Natasha Wiggins principal hair and makeup artist in Hampshire.
I set up my hair and makeup business 13 years ago and I have slowly grown my amazing hair and makeup team. I have carefully handpicked my team to ensure we only have the best in the industry.
Since qualifying as a hair and makeup artist in 2003 I decided that I wanted to specialise in wedding hair and makeup and help brides create their dream look for their big day.
I love creating a natural hair and makeup look.
I like to bring out my brides best features when I style their hair and makeup – bringing out their natural beauty, simply making them the best version of themselves so that the groom still recognises them when they walk down the aisle.
if you have any questions about who would be the best match for your wedding day, do drop me an email or give me a quick call on 07841511409. We can chat about what you are looking for and who I think would be the perfect artist for your big day.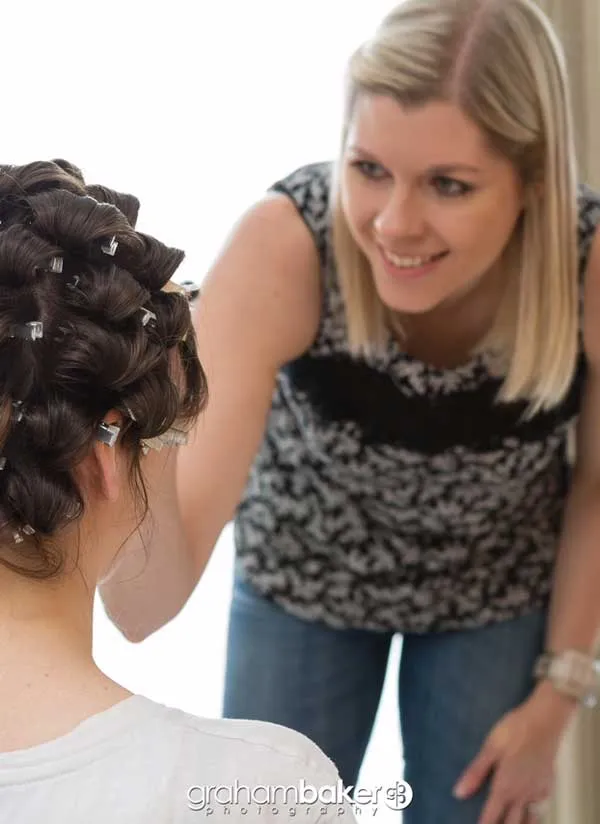 Senior Hair and Makeup Artist
Nikki covers London and Surrey and has been a freelancer in the theatre industry for over ten years, mostly in costume but also including hair, wigs and make-up. In 2015, she retrained at DFMA in a TV, film, theatre and special effects course, to further her skills in hair and make-up.
Since then she has worked on several TV series, short films, events and bridal.
Nikki is creative, calm and good at listening to what you want on your day, as she knows every little detail matters. She knows it's essential that the bride feels at her best and it's always a privilege to be a part of their Big Day.
Senior Hair and Makeup Artist
I am a certified and experienced makeup artist and hairstylist based in Hemel Hempstead and can cover Hertfordshire, Bedfordshire, Buckinghamshire, Berkshire, Essex and Northern London.
I'm skilled in fashion, editorial, catwalk, film and bridal hair and makeup. Have been involved in many professional published photo shoots, fashion shows at London and Paris Fashion Week.

Soon enough discovering that my real passion is creating natural, healthy and radiant looking looks for brides. Have been a bride myself and understand that the wedding day is one of the most important days of every woman life.
I focus on enhancing natural features and assure that you will feel comfortable, look stunning and confident in front of the camera. I'm a patient and calm person who always takes time to listen to expectations and try my best to help archive the perfect look.
I use a variety of high-end products like Laura Mercier, M.A.C., Estee Lauder, Nars, Anastasia Beverly Hills, Urban Decay, Makeup Forever and many more. All products have been tested to ensure flawless and long-lasting look.
Wedding Hair & Makeup Artist
From as young as I can remember I have always been a creative person, I would continuously be pestering my mum and relatives to play with their hair and paint their face.
I'm thankful I can relive my childhood dream job and do something I love daily.
Since qualifying from Brushstroke's Makeup school, I have been able to share and develop my passion with all my lovely clients.
There's nothing more rewarding than seeing a client's face after you have enhanced their natural beauty.
I love meeting new people and being part of such a special day. I like to use cruelty-free makeup such as Charlotte Tilbury and create a fresh, natural fresh look.
I love to work with all different hair types, and especially enjoy creating textured boho styles."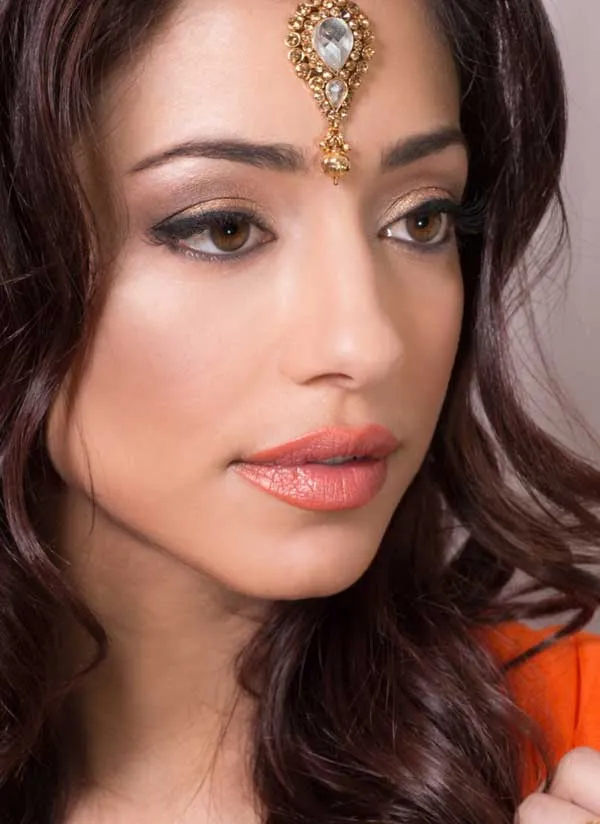 Senior Hair and Makeup Artist
Prina covers Kent, Surrey, Sussex and Hertfordshire Prina trained with some of the top Asian bridal artists including Joshiv Hair & Beauty, Ambreen Hair & Make-up and Reshma Make-up Artist. She also trained with Pam Wrigley.
Prina is experienced in applying make-up for all ethnicities and can apply make-up to achieve a very natural finish or if you prefer, a more glamorous look!
Prina is very passionate about hair styling and applying make-up and enjoys making brides look and feel beautiful for their special day.
Beverly is a professional freelance hair and makeup artist, with a
passion for creating beautiful hair and make-up for weddings, proms,
parties, photography and all other occasions. She prides herself on listening to her clients, them at ease.
Beverly has over ten years within the beauty industry.
She holds a degree in Make-up and Hair Styling from Southampton
Solent University, where she was professionally trained in all aspects of makeup and hair styling for Fashion, TV and Film. Pam Wrigley
has also taught Beverly; at creating beautiful hair in London for Bridal
Hairstyling.
She has an impressive portfolio of wedding and fashion shoots, and regularly works alongside photography makeover studios. Beverly uses the best products to create the best looks for her clients, utilising brands such as MAC, Anastasia Beverly Hills, Nars, Morphe, Charlotte Tilbury, Huda Beauty, and Urban Decay, to name just a few.
Beverly works in the Hampshire area and is happy to
travel throughout the Southern Region including Dorset and Central London.
My name is Jodie Elizabeth, I am a Bridal makeup artist & hair stylist of 10 years, also offering HD Airbrush.
I work all over the country and overseas and absolutely love my job! Each client is individual and I love working alongside you to get your dream vision.
Bridal makeup is my favourite as I love creating a natural illuminating glow!
junior Hair and Makeup Artist
Jennifer Covers Surrey, Hampshire and London Although Jennifer has always been passionate about hair and makeup from a young age she didn't have a clear idea on what career path she wanted to follow until the age of 21. Therefore the majority of her career background is in customer service, something which she enjoyed until she finally realised it really wasn't for her!
Jennifer then enrolled on a hair and make-up course at DFMA – specialised in film, TV and theatre make-up, as well as covering other areas, such as bridal.
Since graduating Jennifer has been entirely focused on a career as a hair and make-up artist and have so far undertaken work (both as lead artist and assisting) for multiple music videos, bridal parties, short films, TV, red carpet, photo shoots, proms and private events.
I've been in the hair and makeup industry for four years, initially focussing my skill in fashion, editorial, eCommerce and TV. Working with fashion houses including justice denim, g.e label, guise shirts and any more!
I started In Melbourne, Australia honing and perfecting my makeup style, taking influence from Australia's style of golden skin and nude, soft glam looks. Which pushed me further and further towards bridal editorials and bridal styles as it's where I truly felt my talents and colour pallets came alive.
It wasn't until I got engaged myself, the joy of being such a huge part in someone's special day meant so much! I'm a romantic at heart and love to be surrounded by happy, excited, smiling faces! It makes my job all the more fun!
Now back in the UK, I have built my kit around being in Australia, using a mixture of their high-end organic skincare brands and vegan makeup. And mixing it with the brands, we have all come to know and love, including Inika, mac, Nars etc!
As a beauty professional for over nine years, my knowledge originated from a skincare background, before specialising in Makeup and Hair artistry. During my journey to gaining a BA(hons) in Media Makeup, I undertook an internship at Habia's Japanese school of Makeup in Tokyo and trained with an extensive range of Makeup and Skincare brands, including Dior, Urban Decay, Chanel and Elemis to name but a few.
This diverse training sparked my interest in not only the practical use of a product, but the science behind the functionality. True to my beauty obsession, I am always on the hunt for new formulations, trends and tricks!

As a freelance makeup and hair artist I have worked with an extensive list of clients from Tipping Point ( ITV) to Michelle Collins ( Qdos Entertainment) , Diversity [musical group] to corporate shoots for companies such as Diesel, Boogi Milano, Snapchat, William Hill and makeup artist to Jolie Nguyen [London Fashion Week].
However, I have found my personable skills set and love of creating feminine, technically beautiful makeup and hair design really lends itself to the wedding industry, there really is no better feeling than making a bride feel extra special on her wedding day.
As a lover of fashion and style, I intend to create beautiful hair and makeup designs that are fashionable, chic and beautiful, that highlight and balance my clients natural beauty, without masking it.
My name is Mehwish Saqib, I'm a hair, and makeup artist based in London but will travel all over the country. 
I'm incredibly passionate about creating classic, elegant and beautiful makeup looks and hairstyles for my brides on the most important day of their life.
My style is natural, and I like to enhance my clients existing features, helping them to look their best on their wedding day.
I also create beautiful high glam looks for any bride who would like to add a bit of sparkle and wants to look glamorous. I look forward to hearing from you and being part of your big day.
Senior Hair and Makeup Artist
I am a fully qualified professional makeup artist and wedding hairstylist.
I first trained at Glauca Rossi School of makeup, and have freelance experience as well as working for a luxury retailer, Space Nk. I have done some work in TV and now specialise in bridal and beauty. I trained further at the Hair and Makeup School, where I qualified in bridal hairstyling as well.
'Magically enhancing what is naturally there' is what I am passionate about. I believe every look should be well blended, effortless, and chic, with hair to match. I use premium makeup, skincare, and hair products, support cruelty-free product choices and can cater to vegan clients.
Senior Hair and Makeup Artist
Vicky studied A Level Art and has always had a creative mind. Vicky received her diploma in makeup artistry from Kingston College, Kingston upon Thames in 2012. She is trained in cosmetics, airbrushing, bridal, period looks, fashion, photographic, TV and film make-up along with special effects and the use of prosthetics. Vicky is also able to make prosthetics. Following this training, she went on to do hair styling with a particular interest in bridal work.
Vicky has worked on a range of freelance jobs including theatre productions, TV sets for shows such as Four Rooms and many short films which have been nominated for Various awards. From the beginning of her make-up artist career, Vicky has loved working within the bridal industry and has a real enjoyment for being part of a brides special day.
As a qualified Beauty Therapist, Vicky specialises in eye treatments including, eyelash tints and perms, eyebrow tints and shapes and semi-permanent eyelash extensions. Vicky is also a qualified Nail Technician, qualified in manicures, pedicures and nail enhancements, including acrylics, fibreglass and gel nails. Vicky can provide mobile beauty treatments as well as wedding hair and make-up for our clients.
Zoe is a confident Hair and Makeup artist who trained specifically in hair and makeup artistry in 2016.
With over 12 years of experience in the hair and beauty industry, Zoe can understand and plan a look with a bride or bridal party to ensure the desired look is met.
She can create a range of styles depending on what is asked for from brides and bridal parties and she has excellent skills in planning and working with large groups for both hair and makeup.
The makeup and hair products Zoe uses are all professional, long-lasting, and compliment skincare and haircare as well as creating a lasting look that is flawless. 
Bridal Hair and Makeup lONDON
To see some of our recent bridal hair and makeup looks, please view our wedding gallery. My wedding team work with our clients at wedding venues across London including; The Bingham Hotel Richmond, The Richmond Hill Hotel, The Petersham Hotel, Ham Polo Club, and Pembroke Lodge
Over the years we have been fortunate enough to create bridal hair, and makeup looks for hundreds of London brides. For the ultimate wedding hair and makeup London contact the NW Makeup team.
TESTIMONIALS
"Natasha and her team are lovely and listen to what you want whilst guiding you and advising you on what would compliment and enhance the natural you. I would 100% recommend Natasha as a makeup artist for any bride X"