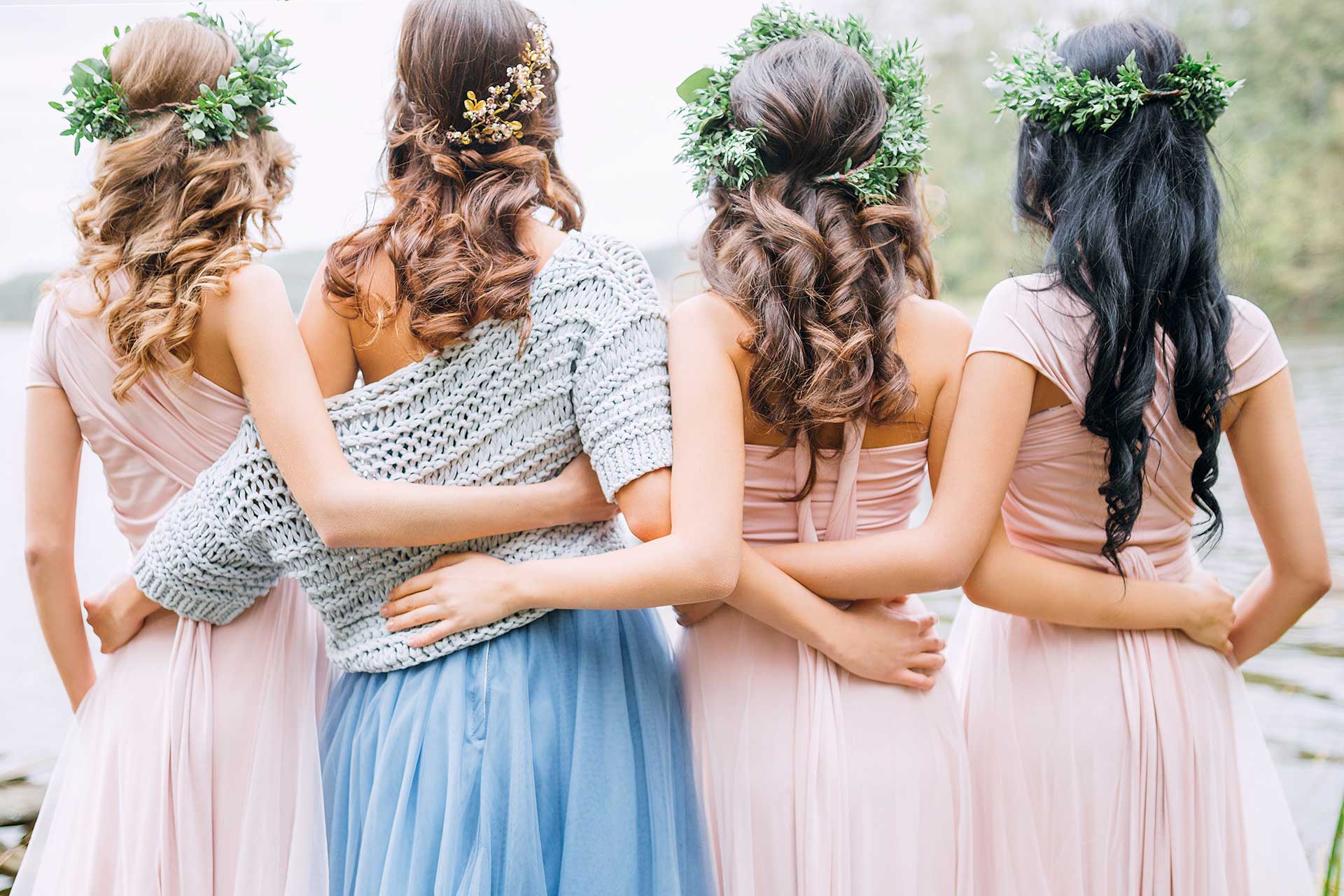 Wedding Hair and Makeup Kent
The Kent NW Makeup team create stunning wedding hair and makeup Kent by using natural techniques that are perfect for your unique features. It is our promise to you that we will have you looking amazing from the very moment you arrive at the venue of your wedding right up until you wave goodbye to your final guests.
Weddings, on the whole, are very busy affairs, photos, strong daylight conditions, and the inevitable dancing late into the night mean that professional wedding hair and makeup is a must, after all, who would want to look washed out in their wedding photos? We create perfect looks that stay fresh well into the evening.
My Kent Wedding Hair and Makeup artists only create styles that make you feel your best, for us the fact that you feel 100% comfortable with your chosen look is of the utmost importance.
NW Makeup artists only use high quality and luxurious products such as Mac, Urban Decay, Christian Dior, Laura Mercia, and Charlotte Tilbury. Many of our artists have worked in TV and Film, all of our artists have been hand picked and vetted to a high standard by company owner Natasha. Looking for unforgettable wedding hair and makeup Kent? NW Makeup is an excellent choice.
I am Natasha Wiggins Creative Director or NW Makeup.
I set up my hair and makeup business 18 years ago and I have slowly grown my amazing hair and makeup business. I have carefully handpicked hair and makeup artists to ensure we only supply the best in the industry.
Since qualifying as a hair and makeup artist in 2003 I decided that I wanted to specialise in wedding hair and makeup and help brides create their dream look for their big day.
At NW Makeup our passion is for natural beauty and boho hair – making our brides look and feel their very best on their wedding day.
if you have any questions about who would be the best match for your wedding day, do drop me an email or give me a quick call on 07841511409. We can chat about what you are looking for and who I think would be the perfect artist for your big day.
I have been a Makeup Artist and Hair Stylist for 13 years, and I absolutely love what I do.
It is so important for me to make someone look amazing but more importantly feel amazing! As well as bridal work I work extensively across the industry in Fashion and TV, as well as Education, regularly teaching makeup for the last 6 years.
I like to use the skills and experience I have in all areas of the industry to keep my bridal and occasion makeup fresh and modern.
I have over 12 years' experience in hairdressing, this is something I have always had a passion for since I was younger. I wanted to do hair and makeup and got a college place for this however a better opportunity came up which is where my journey started.
I was offered an apprenticeship in London Toni & Guy where I had many great opportunities working alongside some very talented hairdressers. I was lucky enough to help stylists out with magazine shoots and work at salon international.
Senior Hair and Makeup Artist
Natalie, is a fully qualified and insured hair and make-up artist, and she has worked in various roles around the film, TV and media industry for over 15 years. Natalie has worked for NW Makeup for more than 6 years and is fantastic at bridal hair and makeup .
Natalie's passion is make-up, hair and making people look and feel their very best on their special day – be it a wedding or a day at the races!
"I use various makeup brands which I love including Mac, Bobbi Brown, Chanel, and Laura Mercier. I also use an airbrush system to achieve an all day, natural bridal look that stays put! I'm qualified in eyelash extensions, gel nail polish, and spray tan."
Senior Hair and Makeup Artist
Melinda has been a makeup artist for 6 years. Before working as a makeup artist she was a fashion graduate with a BA (Hons) in fashion Promotion. Melinda used to work in fashion for the production teams at London Fashion Week. Seeing the hair and makeup teams backstage she decided what they were doing looked way more interesting and decided to retrain as a hair and makeup artist.
Having worked in fashion for over a decade, Melinda knew how to keep calm and collected with tight deadlines and hoped that her calming influence will make your wedding preparation relaxed and easy. 
Since moving to makeup Melinda has worked at over 60 London Fashion Week Shows and been part of the makeup team for Photoshoots for the likes of ELLE UK and VOGUE PARIS, She's even worked at the BAFTAS!
Her work has started to be featured in more and more bridal press including Love My Dress, Festival Brides, and Your Kent Wedding.
Lizzy McKinney is a fully qualified and professional hair and makeup artist specialising in stunning wedding and occasion wear styles. I have a passion for making brides feel truly beautiful on their wedding day. 
Your style is as unique as you are and I make it my job to understand who you are and how you want to look and feel on your special day. I specialise in natural looking, personalised hair and makeup styles including classic, vintage, modern and boho-chic. I cover the areas of Sussex, Surrey, Hampshire and Kent.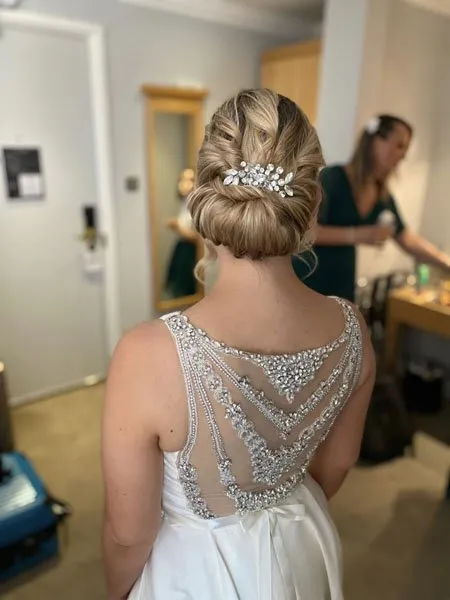 Annie covers London, Kent, and Surrey. Beautifully fresh glowing red-carpet makeup looks with modern effortless hairstyles are her signature.
Annie started this journey off as a 15-year-old apprentice at Headmasters learning everything about hair. Over the years Annie has built up her skills as a professional in both hairstyling and makeup artistry.
Being in her 30's it is now Annie's passion that she prides herself on providing a personalised service for her brides and clients, tailoring a bespoke package for each client that allows them to achieve the final look together.  
It is the most rewarding feeling for Annie to be able to capture every individual and allow their authentic self to shine through. To make your day and leave you looking and feeling like the best version of yourself.
Annie's many years of experience & knowledge range from hairstyling to afro hair, extensions, wig making, makeup application, skin care, product knowledge, and advice. 
With nearly a decade of experience, I have provided Hair and Makeup for hundreds of brides in Kent and the surrounding areas. After graduating from Brushstroke Makeup School with a Double Distinction Level 3 Diploma, where I was taught by leading industry artists, I went on to provide Hair and Makeup at exclusive events, for TV and fashion shoots, whilst building my bridal business and falling in love with the wedding industry.
Creating dream Hair and Makeup looks for my clients honestly brings me so much joy, and I love helping them feel the most beautiful and confident version of themselves, working to enhance all their natural features. My style sways between natural and soft glam, adding a little extra something for my brides that want to feel that bit more glam.
The relaxed vibe beautiful boho hair brings is my favourite, but we can always work to create something a little more classic if you prefer. I pride myself in providing a friendly, warm, and professional service, working with you to create exactly the look you envisaged and keeping your wedding morning calm and enjoyable, being a helping hand with whatever else I can.
My name is Mehwish Saqib, I'm a hair, and makeup artist based in London but will travel all over the country. 
I'm incredibly passionate about creating classic, elegant and beautiful makeup looks and hairstyles for my brides on the most important day of their life.
My style is natural, and I like to enhance my clients existing features, helping them to look their best on their wedding day.
I also create beautiful high glam looks for any bride who would like to add a bit of sparkle and wants to look glamorous. I look forward to hearing from you and being part of your big day.
My name is Jodie Elizabeth, I am a Bridal makeup artist & hair stylist of 10 years, also offering HD Airbrush.
I work all over the country and overseas and absolutely love my job! Each client is individual and I love working alongside you to get your dream vision.
Bridal makeup is my favourite as I love creating a natural illuminating glow!
Wedding Hair & Makeup Artist
Rose is based in Essex and provides beauty services for bridal and special occasion events.
Trained at the revered Brushstroke Academy, Rose is a working hair and makeup artist and has worked with notable names across the film, fashion and music industries. Her true passion, however, is to create beautiful bridal hairstyles and flawless beauty makeups for her brides-to-be.
Her recent bridal work has featured on E4's Don't Tell The Bride! With a background in luxury retail (Harrods, Selfridges) Rose prides herself in her attention to detail and looking after the small things so that her brides can relax and enjoy their wedding morning without worry.
She is gifted in tailoring a bride's personal style choices to enhance their natural beauty and understands that her brides want to be looking and feeling their best, on the best day of their lives! Rose states, "I wish to help your big day run seamlessly so that you can focus on making those special, once-in-a-lifetime memories with loved ones".
Wedding Hair & Makeup Artist
As a beauty professional for over nine years, my knowledge originated from a skincare background, before specialising in Makeup and Hair artistry. During my journey to gaining a BA(hons) in Media Makeup, I undertook an internship at Habia's Japanese school of Makeup in Tokyo and trained with an extensive range of Makeup and Skincare brands, including Dior, Urban Decay, Chanel and Elemis to name but a few.
This diverse training sparked my interest in not only the practical use of a product, but the science behind the functionality. True to my beauty obsession, I am always on the hunt for new formulations, trends and tricks!

As a freelance makeup and hair artist I have worked with an extensive list of clients from Tipping Point ( ITV) to Michelle Collins ( Qdos Entertainment) , Diversity [musical group] to corporate shoots for companies such as Diesel, Boogi Milano, Snapchat, William Hill and makeup artist to Jolie Nguyen [London Fashion Week].
However, I have found my personable skills set and love of creating feminine, technically beautiful makeup and hair design really lends itself to the wedding industry, there really is no better feeling than making a bride feel extra special on her wedding day.
As a lover of fashion and style, I intend to create beautiful hair and makeup designs that are fashionable, chic and beautiful, that highlight and balance my clients natural beauty, without masking it.
I've been in the hair and makeup industry for four years, initially focussing my skill in fashion, editorial, eCommerce and TV. Working with fashion houses including justice denim, g.e label, guise shirts and any more!
I started In Melbourne, Australia honing and perfecting my makeup style, taking influence from Australia's style of golden skin and nude, soft glam looks. Which pushed me further and further towards bridal editorials and bridal styles as it's where I truly felt my talents and colour pallets came alive.
It wasn't until I got engaged myself, the joy of being such a huge part in someone's special day meant so much! I'm a romantic at heart and love to be surrounded by happy, excited, smiling faces! It makes my job all the more fun!
Now back in the UK, I have built my kit around being in Australia, using a mixture of their high-end organic skincare brands and vegan makeup. And mixing it with the brands, we have all come to know and love, including Inika, mac, Nars etc!
Emma is a fully qualified and insured hair and makeup artist and covers Sussex, Surrey, Kent and Hampshire. As well as specialising in Bridal hair and makeup, Emma has worked in TV, video and on professional photoshoots.
She is absolutely passionate about making all her brides look and feel flawlessly beautiful on their wedding day. Your choice of wedding hair & makeup is unique to you and she loves creating perfectly styled hair and makeup which naturally complements you and your wedding style.
Emma truly loves her job and being part of your wedding day preparations from beginning to end. She likes to set a calm, relaxing and friendly atmosphere so that you feel completely at ease, and so that you thoroughly enjoy all the mornings pampering.
All products in her kit are proven for longevity and giving you a flawless finish so you'll look fabulous all day and night. Emma only uses luxury, high end & cruelty-free products – with 95% of her kit being vegan.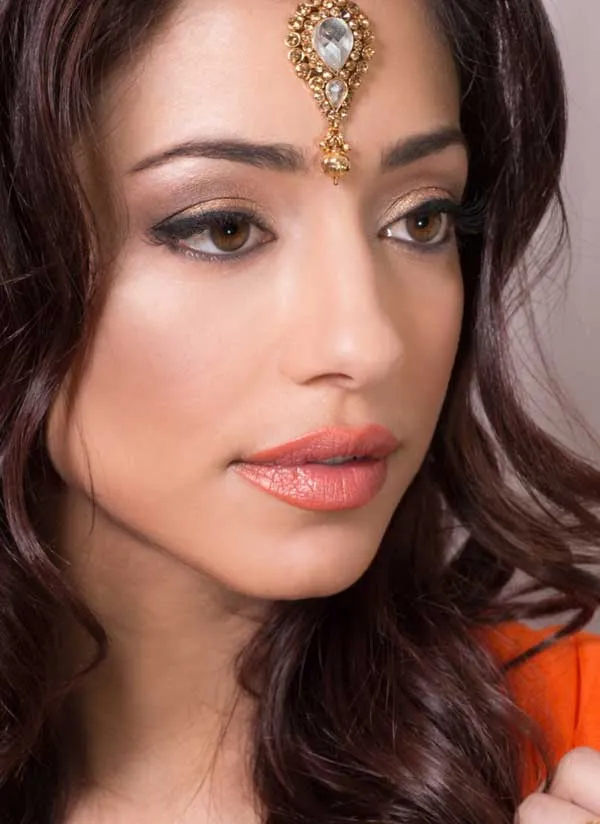 Senior Hair and Makeup Artist
Prina covers Kent, Surrey, Sussex and Hertfordshire Prina trained with some of the top Asian bridal artists including Joshiv Hair & Beauty, Ambreen Hair & Make-up and Reshma Make-up Artist. She also trained with Pam Wrigley.
Prina is experienced in applying make-up for all ethnicities and can apply make-up to achieve a very natural finish or if you prefer, a more glamorous look!
Prina is very passionate about hair styling and applying make-up and enjoys making brides look and feel beautiful for their special day.
Bridal Hair and Makeup KENT
To see some of our recent bridal hair and makeup looks, please view our wedding gallery. My wedding team work with our clients at wedding venues across Kent these venues have included The Old Kent Barn Swingfield near Folkestone, Eastwell Manor near Ashford, and Port Lympe Mansion near Hythe. In the North of the county venues have included The Historic Dockyard Chatham other Kent venue's we regularly visit include; Cooling Barns near Rochester, Leeds Castle near Maidstone, Chilston Park in Medway, Hever castle near Sevenoaks and The Winter Barns Canterbury.
Over the years we have been fortunate enough to create bridal hair, and makeup looks for hundreds of Kent brides. For the ultimate wedding hair and makeup Kent contact the NW Makeup team.
TESTIMONIALS
"Natasha and her team are lovely and listen to what you want whilst guiding you and advising you on what would compliment and enhance the natural you. I would 100% recommend Natasha as a makeup artist for any bride X"